Avocado Tuna Spinach Salad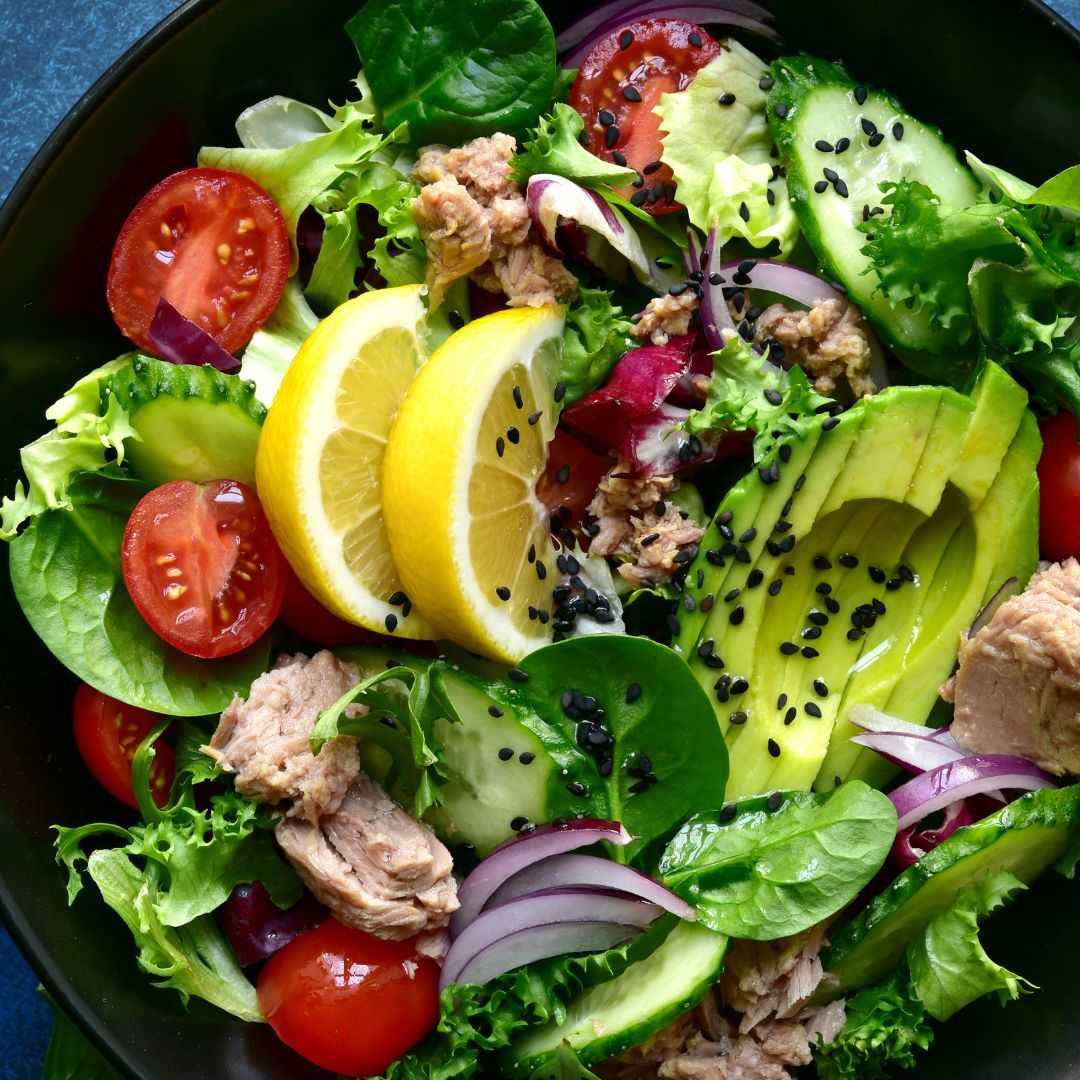 Prep Time: 15 min. Calories per Serving: Around 300-350 calories Servings: 2-3 Difficulty Level: Easy
Tags: Salad, Healthy, Easy, Quick, Tuna Salad, Lunch Rich in Fiber
Ingredients:
2 cans (5 oz. each) of tuna in water, drained
2 ripe avocados, diced
4 cups fresh spinach leaves
1/2 red onion, thinly sliced
1/2 cup cherry tomatoes, halved
1/4 cup sliced black olives
1/4 cup feta cheese, crumbled (optional)
2 tablespoons extra-virgin olive oil
1 tablespoon lemon juice
Salt and pepper to taste
Instructions
Gather Ingredients: Put together all the ingredients for your salad.
Prepare Tuna (2 min.): Drain the tuna from the cans and place it in a mixing bowl. Break it into smaller chunks with a fork.
Mix Salad (5 min.): In a large salad bowl, combine the fresh spinach leaves, diced avocados, thinly sliced red onion, cherry tomatoes, and sliced black olives. Add the crumbled feta cheese if desired.
Add Tuna (1 min.): Gently add the tuna chunks to the salad mixture.
Make Dressing (2 min.): In a separate small bowl, pull together the extra-virgin olive oil, lemon juice, salt, and pepper to taste.
Dress the Salad (2 min.): Drizzle the dressing over the salad mixture. Toss everything gently to coat evenly.
Serve (Total Time: 15 min.): Divide the Avocado Tuna Spinach Salad onto plates, and enjoy this healthy and satisfying meal!
Nutritional Information per Serving without feta cheese:
Calories: 106 cal. Protein: Approximately 7.33g Carbohydrates: Approximately 4.67grams Fat: Approximately 7grams Fiber: Approximately 4grams