Crunchy Granola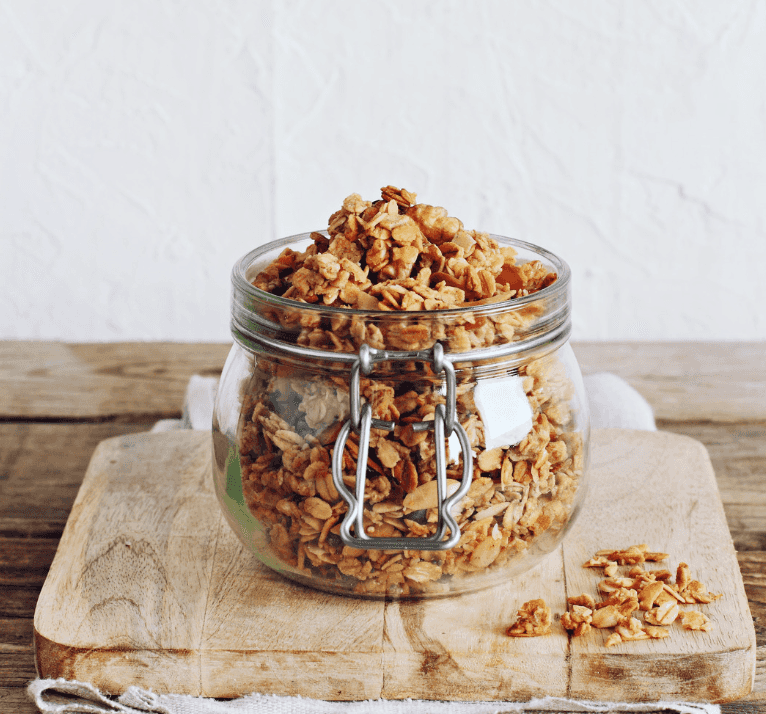 Ingredients:
4 cups rolled oats 1 tsp cinnamon 1/4 cup macadamia nuts, roughly chopped 1/4 cup sunflower seeds 1/4 cup pepitas 3 tbsp maple syrup 3 tbsp coconut oil 2 tbsp linseed 3 tbsp almonds, roughly chopped 1 tbsp water 2 tbsp shredded coconut 1 tbsp chia seeds 1 tbsp natural peanut butter
Method:
Mix all dry ingredients together in a large bowl.
Add wet ingredients to the dry mixture and stir until all ingredients are well distributed throughout the bowl.
Pour mixture onto a large baking tray lined with baking paper. Ensure to pat the mixture down firmly.
Toast in the oven for 30 minutes, toss granola every 10 minutes to allow all ingredients to lightly brown.
Once golden brown, remove the tray from the oven and leave to cool. Once cool break the granola into small pieces.
Serve with natural or Greek yoghurt and top with almond butter and fresh fruit. Transfer left over granola into a large airtight jar and keep for up to 1 month.
Nutritional information per serving:
Energy: 544kJ or 135 calories
Carbohydrate: 10g
Protein: 4g
Fat: 8g