Healthy Banana Pancakes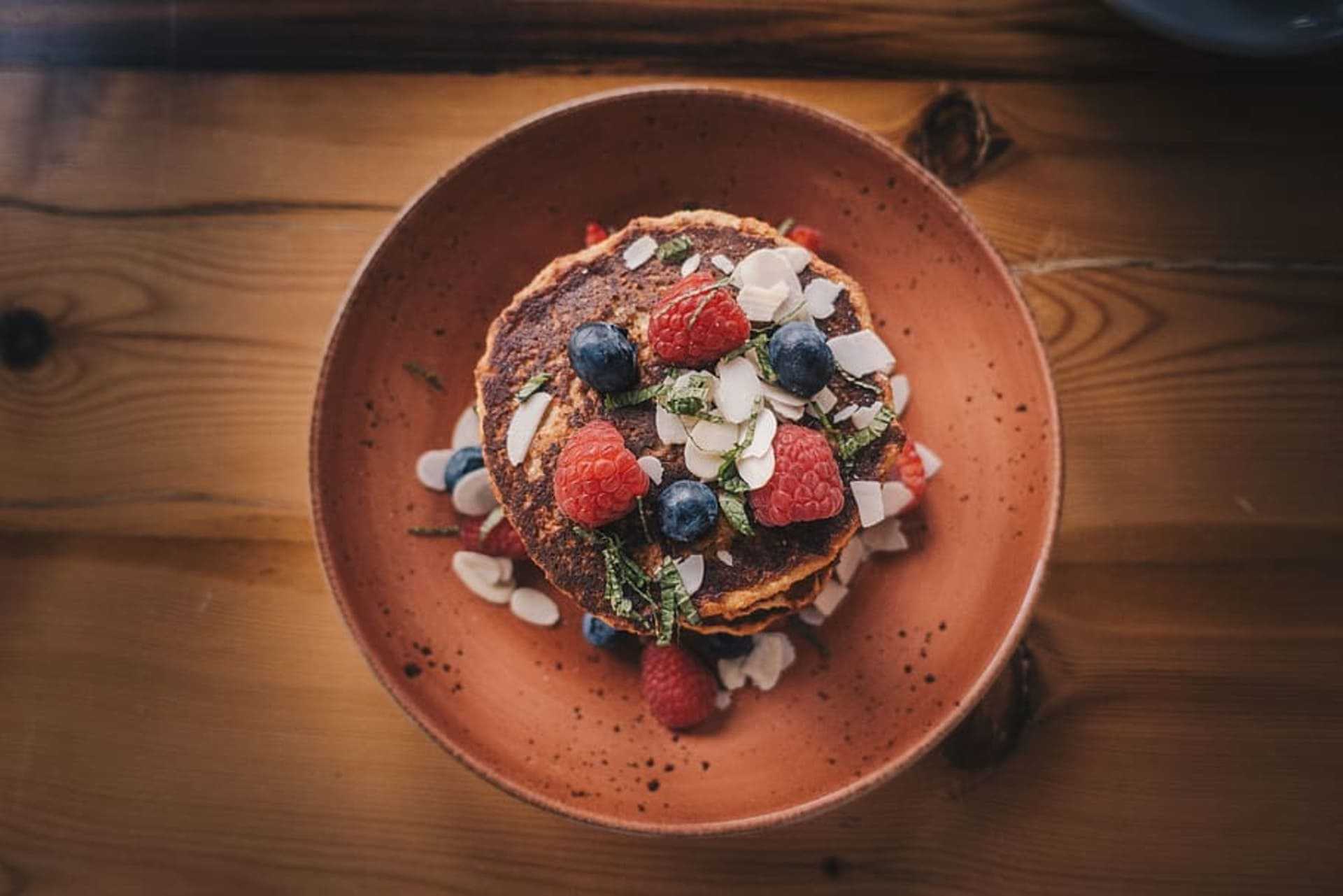 Now before you say anything, I know you've tried so many 'healthy pancake' recipes and they all taste like cardboard… BUT… after you try these I guarantee you'll never want to go to Pancake Parlour again!! Made from simple ingredients all found in your pantry, these will make you crank Jack Johnson and make banana pancakes every weekend.
Preparation Time: 10 min Total time: 25 mins Serving size: 4 servings
Tags: breakfast, pancakes, vegetarian, sweet
Ingredients:
1 cup oats
1 cup milk of choice
2 eggs
2 bananas, mashed
1/4 teaspoon salt
1/4 teaspoon cinnamon
1 teaspoon baking powder
1 teaspoon vanilla extract
1 tablespoon reduced fat butter
To Serve:
1 cup raspberries
1 cup blueberries
1 cup flaked coconut
Honey or maple syrup to taste
Instructions:
In a blender, blend oats until a fine flour forms. Add milk, eggs, mashed bananas, salt, cinamon, baking powder and vanilla extract and blend until smooth.
Heat a non-stick fry pan to medium heat and coat sparingly with butter. Once heated, pour batter to desired size and cook until pancake begins to bubble.
Using a spatula, gently flip the pancake and cook other side until golden. Remove pancake from heat and cover with foil. Repeat this until all pancake batter is cooked.
Serve with fresh raspberries, blueberries, flaked coconut and drizzle with your choice of honey or maple syrup.
I have been training with my personal trainer Katrina for 6+ months now and have enjoyed every minute of it. She is patient and understanding when assisting me but also very encouraging. I have...
I was communicated with very promptly after my Enquiry. The person on the phone was able to highlight my needs and place me under the professional suitable form my needs. The appointment occurred...
Caitlyn - Personal Trainer I've been training with Caitlyn for a couple of months now and it's the best decision I've made. I was lacking motivation and since I've started with Caitlyn I'm...
Great training sessions Great training sessions. Understands your goals and tailors sessions according to your needs.