Margherita Cauliflower Pizza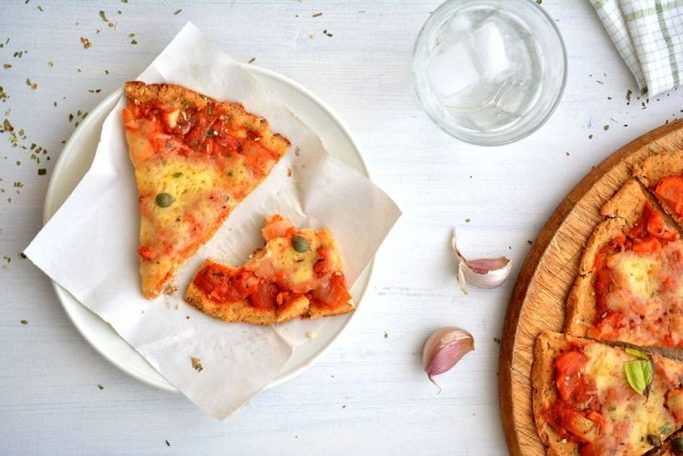 The perfect dinner when you're in the mood for something naughty but you are dedicated to your goals!! By replacing the flour in traditional pizza bases with blended cauliflower (hear us out), your pizza will suddenly become much lower in carbs meaning you can enjoy it guilt-free! Feel free to change up the toppings to your preference.
Prep Time: 25 mins Total time: 1 hour and 10 minutes Serving size: 4 serves
Ingredients:
Base:
8 cups cauliflower florets
1 egg, beaten
⅓ cup goat cheese
⅓ cup parmesan cheese
½ teaspoon salt
1 teaspoon oregano
Pizza Toppings:
4 tablespoons tomato paste
2 tablespoons tomato sauce
1 teaspoon minced garlic
1 large tomato, thinly sliced
2 large bocconcini balls, thinly sliced
½ cup basil leaves
Instructions:
Preheat the oven to 200°C.

Boil cauliflower florets for approx. 5 min or until softened.

Add cauliflower to a food processor and blend until fine.

Allow to cool. Using a clean tea towel, remove as much liquid from the cauliflower as possible.

Transfer cauliflower to bowl and add egg, goat cheese, parmesan cheese and oregano. Mix until a dough forms.

Using a clean surface, knead the dough and roll to form a pizza base. Bake for 15 minutes.

Remove from oven and allow to cool for 5min. In a bowl, combine tomato paste, tomato sauce and garlic. Spread evenly onto the pizza base.

Add basil leaves, sliced tomatoes and sliced bocconcini.

Place in oven and bake for an additional 5-7 minutes or until toppings are cooked. Allow to cool and slice and enjoy.
Tags: dinner, pizza, cauliflower pizza, healthy pizza