Spaghetti Bolognese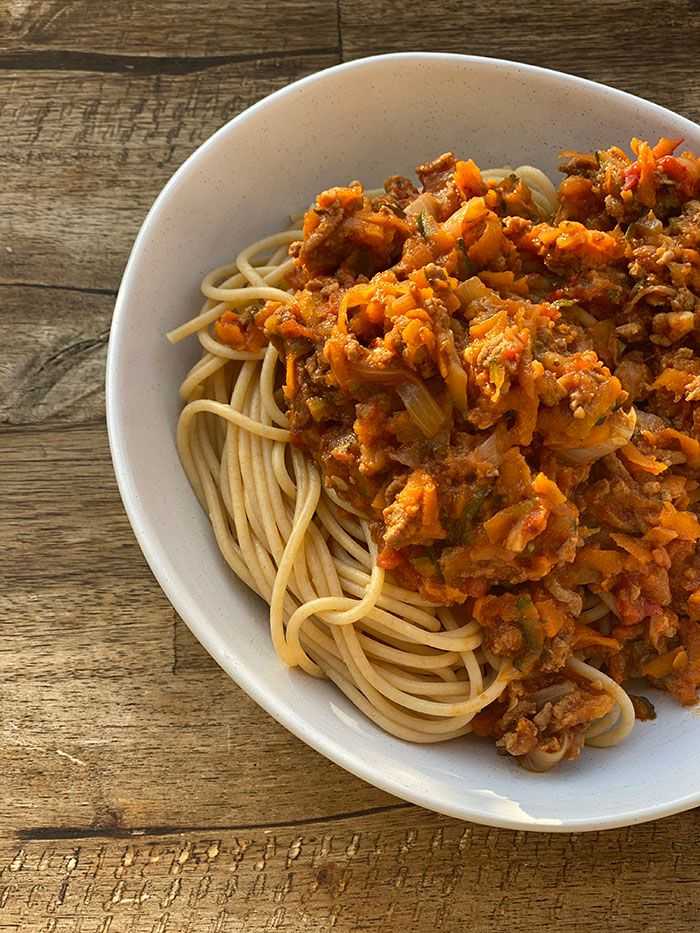 Serves 4
Ingredients:
1 tablespoon extra virgin olive oil
1 medium brown onion, finely chopped
1 garlic clove, crushed
2 carrots, grated
1 cup mushrooms, sliced
1 large zucchini, grated
1 teaspoon dried mixed herbs
500g extra lean beef mince
1 tablespoon tomato paste
1 cup water
2 x 400g can diced tomatoes, no added salt
Method:
Heat the extra virgin olive oil in a large saucepan over a medium flame.
Add the onion and garlic to the saucepan and cook for 3 to 4 minutes or until the onion has lightly browned. Increase heat to medium-high and add the mixed herbs. Cook for 1 minute or until fragrant.
Add the prepared vegetables and allow them to cook for 5 to 10 minutes.
Then add the beef mince and cook, stirring with a wooden spoon to break up the mince, for 8 to 10 minutes or until browned.
Add the tomato paste, water and diced tomatoes and bring to the boil.
Reduce the flame to medium-low and cook, partially covered, stirring occasionally, for 40 to 45 minutes.
Serve with wholemeal spaghetti and parmesan.